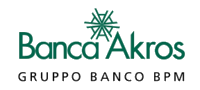 Banca Akros is the Corporate&Investment Bank of Banco BPM Group.
The history of Banca Akros dates back to Akros Finanziaria, then Akros Attimo SIM.
Banca Akros was founded in 1997 when Akros Attimo SIM was transformed into a bank specialised in transactions with banks and corporate and institutional investors. The Bank became part of Banca Popolare di Milano Group in 1998 and, following the merger between Banca Popolare di Milano and Banco Popolare in January 2017, of Banco BPM Group, the third banking group in Italy.
Under the organizational model of the new Group, Private Banking and Corporate & Investment Banking activities are managed by two separate banks, Banca Aletti and Banca Akros respectively. As a consequence the Aletti Certificate brand is handed over to Banca Akros in order to maintain the presence in the Italian Certificates market.
The Certificates spectrum is wide and articulated, ranging from Autocallable to Coupon Premium Certificates. Each type of product has different features and diversified underlying activities , suitable for different investment strategies and needs: from capital preservation to the search for additional return.
Liquidity is provided by the listing of Certificates on SeDex and EuroTLX MTF. Product characteristics and current prices are available on the dedicated website.
The website, along with dedicated Reuters pages and a toll free phone number, allows the investor to have updated information. Free newsletters provide comments and information on international markets and economy.