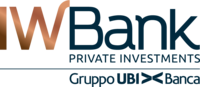 | | |
| --- | --- |
| Distributor | IWBank SpA  |
| Business Unit | Area Trading e Mercati |
| Address | Piazza Fratelli Zavattari 12, 20149 Milan - Italy |
| Phone | 800.99.11.88 |
| Website | https://www.iwbank.it |
| E-mail | info@iwbank.it |
| Person in charge | Alessandro Forconi |
IWBank is the bank belonging to UBI Banca Group dedicated to investment advisory, financial planning for private individuals and families, and to online Trading and Banking. IWBank's distinctive multi-channel business model is based on the evolution of financial advisory services, the extensive range of investment solutions provided for in open architecture and operational digitalization: IWBank's platform, already one of the most comprehensive in the industry, currently includes more than 50 asset managers and 6,000 funds, besides many life insurance partners and certificate issuers.
Thanks to its technological DNA, IWBank constantly implements the operational digitalization of Financial Advisors, which has a positive impact in terms of service standards, competitive capacity and commercial effectiveness of the Network: the innovative service of the Omnichannel Advanced Electronic Signature has in fact streamlined the operations of financial professionals, allowing today the digitalization of more than 60% of advisory services.
The other key pillar of IWBank's business model is online Trading, for which lWBank is solidly on the podium of Assosim's half-yearly ranking in terms of value traded on the Italian stock market.
The operational activities are enabled by IWBank's trading platforms - IW QuickTrade, 4TraderPlus and App Trading+.
IWBank's trading offer guarantees access to more than 50 world markets: Equity markets (including Borsa Italiana, Nasdaq-Amex-Nyse, Euronext, Xetra), Fixed Income markets (including MOT, Euromot, EuroTLX) and derivatives market (linked to equity indices, bonds and commodities), for trading a wide range of futures and options to buy and sell, during all market opening hours starting from midnight every day.
Further information available under the link www.iwbank.it